Your smile is important. Whether you're going for an interview, preparing for a first date or just want to make a great impression on someone else, your teeth matter.
The old way of doing orthodontics was getting those ugly metallic braces. Let's be real – they worked but didn't look great.
So intrepid researchers and entrepreneurs came up with an incredible innovation at the turn of the century – enter Invisalign.
What Is Invisalign?
Invisalign 101: An Explainer

Invisalign is an orthodontic treatment option that allows doctors to straighten teeth using a series of clear, removable, nearly invisible, plastic appliances called aligners.
These aligner trays are made of a smooth, comfortable and nearly invisible plastic that lightly snap on top of your teeth. Wearing the Invisalign® aligners will steadily and gently shift your teeth into place.
Unlike traditional braces, there are no metal brackets to attach, and no need to tighten any wires. This ensures that you get the beautiful smile you desire with little interference in your daily life. Here's the best part: most people won't even know you're wearing them!
How Does Invisalign Work?
Let's go through how Invisalign works. This is science and technology working together to make great things happen for your teeth.
The patient meets with an Invisalign-trained dentist (like Dr. Nasiry at LA Dental Clinic!) who takes orthodontic records of the patient's teeth, including impressions, and fills out an Invisalign treatment prescription form and sends all the material to Align Technology.
At Align, a computer model of the patient's teeth is created from the impressions. Align then uses its advanced, 3-D imaging software to generate a graphical representation of the doctor's treatment plan—almost like an animated movie of the way the patient's teeth will move from the current position to the final desired position.
What are the Primary Benefits of Invisalign?
There's a reason why Invisalign has grown so much in the last decade. It's because there are clear benefits to getting it. Invisalign is:
Nearly invisible: You can straighten your teeth without anyone knowing.
Removable: You can eat and drink what you want.
Better oral hygiene: You can brush and floss normally to maintain healthy gums and teeth.
Comfortable: There are no wires, metal or brackets to cause mouth abrasion.
Who Can Benefit from Invisalign?
Just about anyone. Experienced doctors can use Invisalign to treat the vast majority of people who want straighter teeth.

According to the Journal of the American Dental Association, two-thirds to three-fourths of American adults (between 136 and 154 million) have some sort of malocclusion (crooked teeth) and could benefit from orthodontic treatment.
Your initial consultation and the testing done throughout will determine if you are a good candidate for Invisalign.
How Long Does Treatment Take?
This depends on your goals. Like traditional braces, the length of treatment depends on the complexity of the case. If your goals require a lot of movement of your teeth, the treatment time will be longer. If your case doesn't require much, the treatment time will be shorter.
Nevertheless, expect your treatment to be as short as 10 months to as long as multiple years.
Does Insurance Cover Invisalign?
Typically, an insurance policy that covers traditional braces also covers Invisalign to the same extent. In addition, many doctors offer financing through companies such as Chase Health Advance or Care Credit.
How Much Does Invisalign Cost?
One of the most commonly asked questions about Invisalign is how much it costs. It's an important question and one that we at LA Dental Clinic want to be upfront about.
You're investing a lot of money into improving the way your smile looks. You deserve a clear explanation on the cost of Invisalign treatment.
Charges can vary depending on the length of treatment. The price of braces and specifically Invisalign may vary greatly from Doctor to Doctor and from city to city.
The charge is typically calculated using the time period of treatment together with the complexity of your case. People who have more crooked teeth can expect to be charged more than those that need minor tooth movement only.
Also, you have the price of the retainers following the treatment. Again, this can vary.
However, you can expect to pay between $3500-$6000 for Invisalign treatment.
Invisalign Treatment Plans at LA Dental Clinic
We've got 3 Levels of Invisalign Treatment Plans at LA Dental Clinic. Let's go through them all and what they include:
Level 1: Simple Invisalign Treatment
Cost: $3250
Level 1 Treatment Includes:
All necessary office visits
All Invisalign Aligners up to 10 (no refinements)
Level 2: Mild Case Invisalign Treatment
Cost: $3499-$3999
Duration: 12 months or more
Level 2 Treatment Includes:
All necessary office visits
All Invisalign aligners
Up to 3 refinements to complete your case
Level 3: Invisalign Treatment
Cost: $3999-$5500
Duration: Under 12 Months
Level 2 Treatment Includes:
All necessary office visits
All Invisalign aligners
Up to 3 refinements to complete your case
What Is The Process To Get Invisalign?
This is your opportunity to learn about whether or not Invisalign is right for you. Dr. Arezoo Nasiry and Dr. Azy Nasiry will discuss your orthodontic issues with you and ask you what your goals are.
They will then talk about your options in detail to decide if you're a good candidate for Invisalign.
You will have an opportunity to ask questions regarding Invisalign, concerning treatment, costs, dental/orthodontic insurance and more.
2. LA Dental Clinic will create a customized Invisalign treatment plan for you
After careful examination done by Dr. Nasiry, we will take impressions, x-rays, and pictures of your teeth. From these, our team will be able to create a digital 3D image of your teeth. You'll also be able to see a 3D model of what your teeth will be like when your Invisalign treatment is done.
Dr. Nasiry will show you the exact movements of your teeth and will let you know approximately how long the length of the treatment will be. From here, she'll create a customized treatment plan, just for you.
3. Get your custom fitted aligners based on your treatment plan
Based on the customized treatment plan, a series of custom-made, clear, BPA-free plastic Invisalign aligners will be made for you. Unlike traditional metal braces, these trays will not irritate your cheeks and gums.
You must wear them throughout the day, and remove them whenever you wish to eat or brush, and floss your teeth. Your dentist will recommend you keep them on for 20-22 hours a day to start.
4. Wear a new Invisalign® aligner every two weeks
Roughly every two weeks, you will start wearing a new set of Invisalign aligners and then you will be advancing to the next stage of your treatment. We will continually monitor your development with occasional check-up appointments with Dr. Nasiry.
Typically, you will only need to come in for a checkup every 6 weeks or so. For the best outcomes, like we mentioned earlier, you should wear your Invisalign braces for 20-22 hours per day.
Invisalign Before and After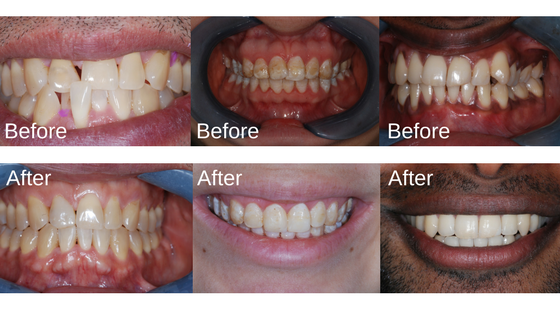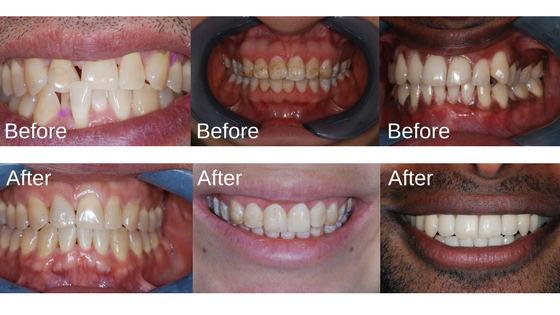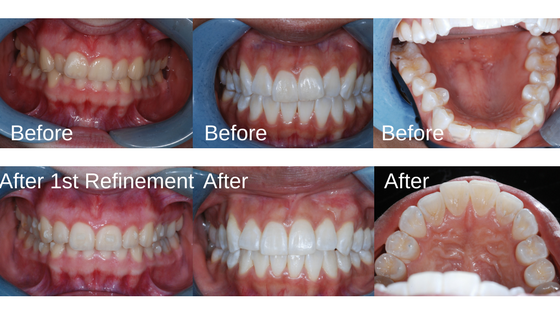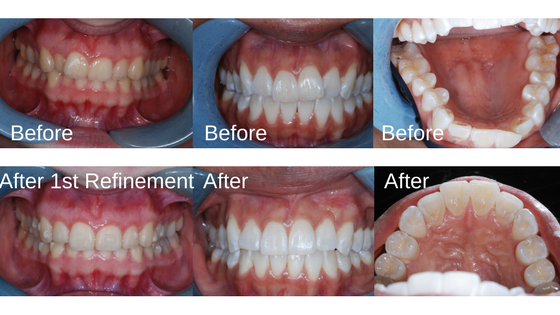 Take Action Now! Book A Consultation
Your teeth won't just fix themselves. Crooked teeth and imperfections need help and Invisalign could be the solution for you. Book a consultation with us at LA Dental Clinic and take that next step forward.
Ready For Your Smile Makeover?
Book your appointment by clicking on the button below or contact us by calling us at 213.342.6041 or filling in the form on this page!